POP QUIZ: What Did The GOP Go To The Mat For Last Year That Had Awful Results?
Tax cuts for the rich. Remember this?
For the first time in history, the U.S. credit rating has been downgraded.

This "tea party downgrade" is a shameful blow to our nation's honor and risks throwing us right back into recession. Worst of all? It was completely avoidable.

But when given the choice between extremist posturing and responsible leadership, tea party Republicans chose wrong.

Can you share this image with your friends and family today?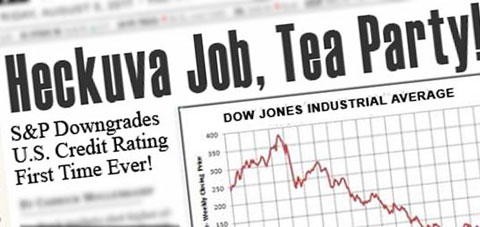 John Boehner and the rest of the Republicans hurt our economy and the whole country needs to know it so that it doesn't happen again.
Can you share this with everyone you know to remind them what could happen if Republicans in Congress holdup any more priorities to get tax cuts for billionaires again?
Paid for by MoveOn.org Political Action. Graphic created by volunteer editor Mark H.